President's Message
The chemical industry has grown with each generation as it creates new value through the power of technology, contributing to the progression of the world. The Chemical Daily has had a front-row seat in witnessing the development of the chemical industry, reporting daily on industry news since the newspaper's founding in 1936.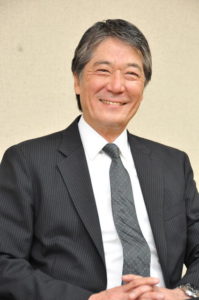 With this, The Chemical Daily enjoys a large readership that turns to us as a specialized newspaper and go-to source on Japan's chemical industry.
In 2016, The Chemical Daily is celebrating its 80th anniversary, with which we made the decision to establish this English-language site, Japan Chemical Daily.
We have close to 100 reporters, with our core branches in Japan as well as overseas offices and bureaus in Shanghai, Singapore and Bangkok, providing news on the daily movements taking place in the chemical and surrounding industries. With the establishment of our English-language site, we feel a tremendous sense of purpose in delivering such news to readers broadly across the globe.
In recent years, the human race has been facing a myriad of challenges, such as the depletion of fossil resources, climate change, aging societies and an uneven distribution of food and water resources. Furthermore, the world's industries are approaching a major turning point in the form of a fourth industrial revolution, coming on the back of rapid progress in information and communication technology (ICT) – including the use of big data and the Internet of Things (IoT).
I believe that, in this stage of major historical transformation, the chemical industry is more necessary than ever to people and societies – flourishing broadly across the world as it provides new value to a new generation that needs it.
So please enjoy your time with us at Japan Chemical Daily and take in the dynamic trends of the chemical industry.
Osamu Odajima
President & Publisher
The Chemical Daily Co., Ltd.